TravelBrands announces $20,000 contest prize winner
Frank DeMarinis and team surprise winner at Arthur Travel Services
MISSISSAUGA, ON – To celebrate TravelGenie being offered through GDS systems, TravelBrands hosted a giveaway for travel agents. On September 10, 2019, TravelBrands surprised the contest winner, Bonnie Oxby with the grand prize. Bonnie received $10,000 for herself and $10,000 for her agency, Arthur Travel Services.
"We are always committed to supporting our travel agent community and showing our appreciation when we can," says Frank DeMarinis, CEO, TravelBrands. "TravelGenie is a fantastic tool to build custom packages, saving time and money for both agents and their clients. This giveaway was a great way of showcasing TravelGenie's capabilities while rewarding a lucky agent with a prize."
To qualify, travel agents had to book at least two TravelGenie packages in their preferred GDS between April 1 and June 30, 2019. Every additional booking served as an additional entry. TravelGenie allows travel agents to build custom packages for their clients to worldwide destinations using their existing GDS. This means more choices, total flexibility and endless
possibilities for travellers.
TravelBrands' CEO Frank DeMarinis surprised Bonnie with the good news at her travel agency, Arthur Travel Services. Frank was accompanied by Director of Sales, Ontario, Shannon Smith and Manager, Special Projects, Jennifer Matthews. Bonnie, who was shocked by the announcement, believes she will use her winnings towards future travel.
To learn more about TravelBrands' dynamic packaging and upcoming contests, please visit www.travelbrandsaccess.com.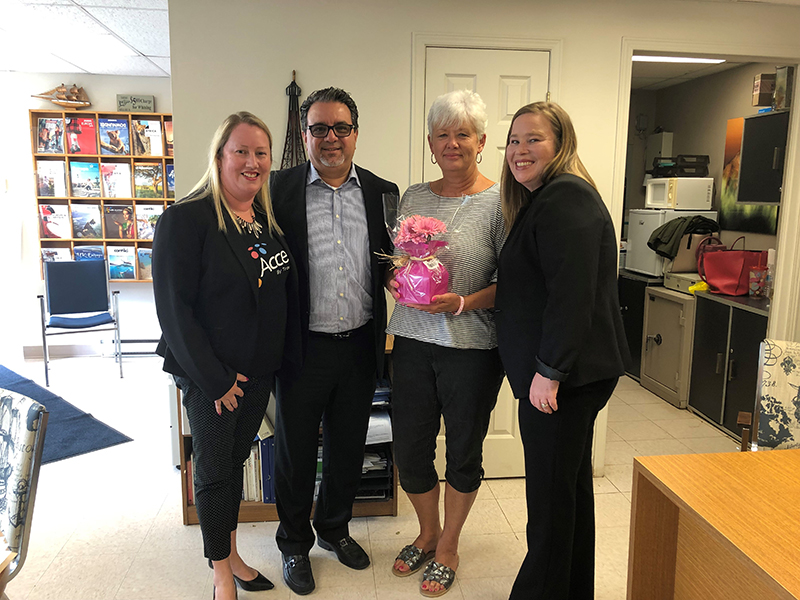 About TravelBrands Inc.
A division of H.I.S.-Red Label Vacations Inc., TravelBrands gives agents and consumers access to the world. It is one of the largest travel companies in Canada, active in both the wholesale and retail travel industry. TravelBrands offers a wide range of travel options – including flights, hotels, cruises, attractions, rail passes, car rentals and more.