TravelBrands receives prestigious 2018 Chairman's Circle Honors award
U.S. travel industry recognizes top international tour operators and buyers
MISSISSAUGA, ON – TravelBrands has once again been recognized as a Chairman's Circle honouree. The U.S. Travel Association and Brand USA honoured representatives from the world's highest-volume tour operators and buyers of U.S. travel and hospitality services, including TravelBrands, at its annual Chairman's Circle Honors event held on May 19, 2018.
This elite awards event was held atop the DaVita headquarters in Denver, Colorado during the association's 50th annual IPW conference. Co-hosted by Brand USA, the prestige event honoured international travel buyers for outstanding efforts to bring the world to America. The evening featured entertainment from Colorado musicians and was emceed by travel expert Samantha Brown.
The U.S. Travel Association's Chairman's Circle-level members, including top U.S. travel businesses and destinations, nominate all international honorees.
TravelBrands, along with 58 other international travel organizations, received this prestige award, and an official badge. This award is given out on a yearly basis to select organizations that make prominent contributions to the U.S. travel industry. TravelBrands was also a recipient of this award in 2017. For more information on TravelBrands' U.S. travel product, please visit www.travelbrandsaccess.com.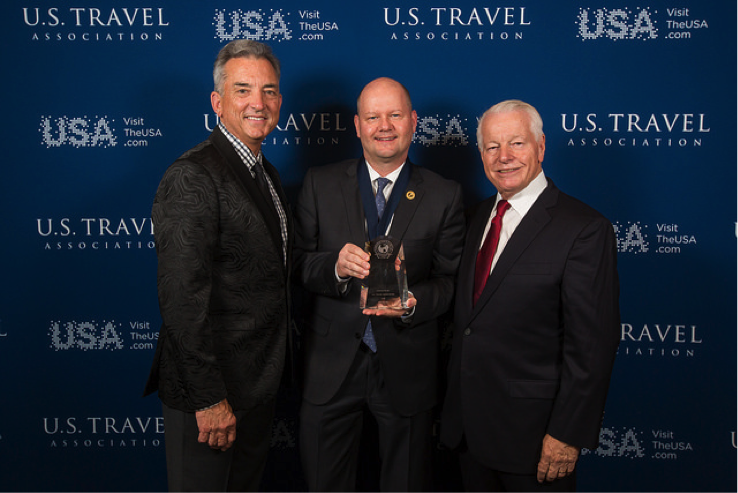 Pictured: Roger Dow, president and CEO, U.S. Travel Association, Elvi Cal, V.P. Product Development, TravelBrands, and Chris Thompson, president and CEO, Brand USA.
About TravelBrands Inc.:
TravelBrands gives agents and consumers access to the world. It is the largest independent travel company in Canada, active in both the wholesale and retail travel industry. TravelBrands is the most comprehensive one-stop shop in the industry, offering Canadians a wide range of travel options – including flights, hotels, cruises, attractions, rail passes, car rentals and more.